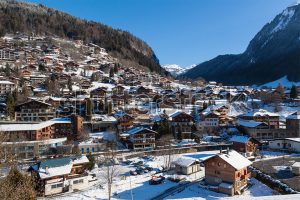 Should you wish to spend a few nights in but don't fancy the hassle of buying and preparing your own meals, then we will be happy to provide you with some catering options. Whether you would like a traditional Savoyarde Banquet, a tartiflette feast or a good old English roast then please let us know and we will be happy to help.
As an optional part of the service we offer, we are now working with a couple of catering companies who can do as much or as little catering as you like.
– The first is Chalet Kitchen and Alptitude clients get a 20% discount off the price of evening meals on our website during the months of January, March and April. They provide delicious meals prepared in resort and delivered fresh each day. It all arrives fully prepared, all you have to do is heat, serve and enjoy! Six nights of two-course evening meals is 99 euros per person. Breakfast options are also available. If you'd like to find out more you can view their menu here Chalet Kitchen 2018.2019 or you can visit www.chaletkitchen.com
Use this code to get your Alptitude discount at Chalet Kitchen
EM20-JAN-MAR-APR-19-ALPTITUDE
– Another business we work closely with and recommend is www.guerrilladining.fr
Guerrilla Dining is Chef Sharif Gergis' venture, a Private Chef/Catering service offering customised dining solutions in Morzine.  They pride themselves in providing the highest level of cuisine in a package designed to suit the specific tastes and budgets.  This is without a doubt the BEST food Alptitude has had the pleasure in sampling.  If you are a keen foodie or have a special occasion during your say – I would thoroughly recommend him.  Book early to avoid disappointment though.
– Another great company is Chez Toi. They are a bespoke catering company who specialise in offering restaurant quality food, cooked and served for you fresh in your ski chalet or apartment in Morzine, Les Gets, Montriond or the Vallée d'Aulps. At a very competitive price, they can offer you a two, three, four or five course evening meal of your choice that includes wine and coffee. They'll even do the dishes afterwards! They offer fully catered packages for a whole weeks catering or you can book one of our private chefs for a special occasion or one off evening. Please visit www.cheztoi.biz
– Griffin Private Chefs is run by Katie and Finlay Dickson; two professional chefs offering a private chef and chalet catering service in the Morzine area. With over 15 years of experience between them they will create the perfect accompaniment to your holiday. They offer one of dinner parties or a weekly chalet catering package.
Please see our website for more details and the full menu; griffinprivatechefs.com
– Alpine Cuisine is a simple food delivery service, bringing a kit of Fondue or Raclette, complete with equipment, ingredients and instructions, delivered to your door.  Enjoy a quality, mountain meal experience in the comfort and convenience of your chalet or apartment.  Avoid the supermarket and follow easy steps to wow your group with a memorable, tasty meal.
For more details please check out:  www.alpinecuisinemorzine.com
Email: hello@alpinecuisinemorzine.com    Call on: +33(0)6 98 40 82 75